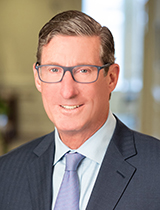 Lawrence P. Fisher, II
President, Family Wealth Services
Tel: 240.497.5090
Send Email
Larry is responsible for providing comprehensive wealth planning advice and overseeing services to families, individuals, foundations and endowments.
Prior to joining Chevy Chase Trust, Larry was Managing Director and Senior Resident Officer at Bessemer Trust Company, responsible for all aspects of wealth management services and operations in the Mid-Atlantic region. From 1998 to 2005, he served as a Senior Vice President with U.S. Trust Company. Before that, Larry was Vice President and Department Head in Corporate Lending and Middle Market Lending at Mellon Bank, Maryland National Bank and its predecessor, American Security Bank. He began his career in the executive management training program at Riggs Bank.
Larry earned his undergraduate degree from Georgetown University. He is currently a member of the Automotive Hall of Fame Board of Directors and the Library of Congress Trust Fund Board. Larry is also a member of the Board of Trustees of Canterbury School where he was a graduate of the class of 1977 and the Board of Next Generation Choices Foundation (also known as LessCancer.org), as well as a member of the Meridian Global Leadership Council. Larry was named a Finalist for the 2015 SmartCEO Money Manager Awards and has been listed a number of times as one of DC's Best Financial Advisors by Washingtonian Magazine, in 2018, 2019, 2020 and 2021.
Bethesda Magazine 2022 Top Financial Professional »
Read an interview with Larry Fisher »
Watch a video with Larry Fisher: Estate Planning »
Watch a video with Larry Fisher: 3 Common Mistakes Investors Make»
Watch a video with Larry Fisher: When and How to Speak to the Next Generation About Wealth »